​January 30, 2017HELLO, DALLAS FARMERS MARKET!

Brockhouse is honored to now be a featured vendor under THE SHED at Dallas Farmers Market in downtown Dallas. Come out and meet the family behind the jerky every Saturday and Sunday. For DFM hours of operation and more info, click

​HERE​

.
---
​ October 25, 2016
BROCKHOUSE PARTNERS WITH TEXAS LOCAL DISTRIBUTION
After a bumpy year, Brockhouse is please to announce an NEW partnership with an excitingly motivated local distribution company with focus on our home in north Texas. WHOOP! Texas Local Distribution has strong ties in the far north Texas cities of Denton, Sherman, McKinney, and Allen.
---
​September 19, 2016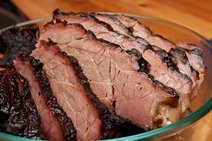 BEEF BRISKET WEDNESDAYS IN SEAGOVILLE
What good is having the best BBQ smoker known to man without the BBQ? We heard you, Seagoville!
​That's why every Wednesday we are offering BBQ brisket lunches (sandwiches and loaded baked potatoes) just for you! Order online or give us a call. Click
HERE
for more info.
---
---
February 28, 2016
INTRODUCING TWO NEW FLAVORS!
You've asked for it, and we have obliged. For those of you who don't like it sweet or hot, Brockhouse introduces our newest flavor PLAIN JANE. She's just the right amount of smoky goodness...plain and simple. Also, be sure to try another winning flavor, SMOKED PEPPER. The combination of coarse cracked pepper and hickory wood smoke is hmmm, hmmmm, GOOD!
---
December 3, 2015 ***UPDATE***
BROCKHOUSE EXPANDS RUDY'S PARTNERSHIP
Rudy's Country Store and Bar-B-Q franchise locations in Ft. Worth and Frisco, Texas have joined the Brockhouse team! Sounds like a match made in BBQ heaven.



November 19, 2015 RUDY'S COUNTRY STORE "MEAT" BROCKHOUSE

Our awesome one-man sales team has partnered with the good ol' folks at

Rudy's Country Store

in Allen, TX. Stop by and grab a bag today!

(While you're there, bring us back a few BBQ pork ribs.)
---
October 22, 2015
FIRST WHOLESALE SHIPMENT IS ON IT'S WAY
With vote of confidence from B.R. Israel of DYNA Distributing, the Brockhouse brand now has access to over 2,000 stores. DYNA is the largest full service beef jerky distribution company in Texas, representing national brands like Jack Links, Old Trapper, Oberto, and Tillamook. Look for us soon at a convenience or grocery store near you!
---
September 30, 2015
STAMP OF APPROVAL
It's official! Our processing facility has passed USDA inspection. Time to REALLY get to work.

---
May 2015
NEW PROCESSING PLANT IN THE WORKS
It's been a long time coming, but we are finally making headway on our new processing facility in Seagoville, TX. Shoutout to our good friends and J&R Manufacturing for our custom smoker. Patented by Herbet Olyer in 1968, it's considered the "finest barbecue pit in the word!"